ABOUT DAVE KRIEG
Seahawks Ring of Honor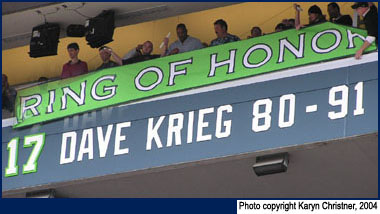 On his induction:
"I am so proud, so blessed, and so humbled by this I can't explain it to you."
"I can appreciate things. I just want you guys to know I can appreciate. I'm very grateful, very humbled and blessed by this whole experience. I can't put it into words to describe it."
"In the long run I gave them everything I had and I hoped they remembered. I think they did by the way they responded. That was very, very touching."
On the other members of the Ring of Honor:
"I've played with every name that's up there," Krieg said. "That's an honor in itself. There are some Hall of Famers up there."
On playing for the Seattle Seahawks:
"Playing for this team was like being a member of a family, and like any family, there are some proud moments and there are some disappointments and unmet expectations. I'm sure I've given you a little bit of both of those, but I'll tell you, you Seahawks fans, I've been to six different teams, and you are the best fans in the National Football League."
On Coach Chuck Knox:
"He brought a winning tradition here, a hard work ethic that I was used to. He did it fair. He just played whoever he thought was the best guys, and he brought a winning tradition here."
On his father who passed away the previous year:
"If he would have been able to see his last name, the name of his son up there, it would have honored him so much."