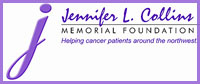 On August 21, 2007, The Dave Krieg Roast was held at The Westin in Seattle to benefit The Jennifer L. Collins Memorial Foundation. The turnout was great and the organizers were pleased - we raised $70,000 for the foundation!
If you were unable to attend the Roast, it's not too late - DVD's are available from the foundation! For a $25 charitable contribution, you will receive a copy of the DVD - over 2 hours of video from the event including Seahawks stars such as Blair Bush, Dave Wyman, Steve Raible and Bryan Millard, Seattle journalists and radio personalities including Art Thiel, and even fan favorite MamaBlue who phoned Dave's mom before the event to get the real scoop on Dave Krieg!
To make your donation and receive your DVD, please visit JensFriends.com. It's a great gift idea and a terrific collector's item for any long time Seahawks fan!